Ozge Gurel has acted in many series and has signed successful works. Ozge Gurel, who also attracts attention with his beauty, is a loved and followed actor. So, what series did she appear in? What are the new and old most watched Ozge Gurel TV series?
Kizim Nerede? – 2010
Zafer Demiray, one of the country's well-known businessmen, has a big, happy family with his wife Suna, three daughters Zeynep, Cansu and Eylul, his sisters Ipek, Mine and their wives and children. The family business they founded and grew has achieved great success. On top of all this, another success celebrated at the birthday party where the family came together is that Zafer Demiray was elected businessman of the year. Zafer Demiray has everything he can imagine in this happy painting. In the continuation of the celebration, Zeynep and her 3 cousins ask permission to go to the party at night and break off the permit without difficulty. 4 young people leave the party Zafer Demiray. At 03: 00 at night, Zeynep's mother Suna and her aunt Ipek come to pick up the young people. In a place where it is obvious that the end of the fun is approaching, Suna and Ipek find all the cousins one by one. But Zeynep is not there! They ask Cousins. No one has seen Zeynep. The cell phone is also turned off. They look for close friends he may have gone with, but Zeynep is nowhere to be found! A fearful wait begins for the entire family. A happy family painting suddenly turned into a nightmare. Where is Zeynep?
Yildizlar Sahidim – 2016
Aras is a young pop singer and a name that Turkey follows with great love and admiration. Haziran character is a young girl who leads an ordinary life in her neighborhood and dreams of meeting Aras with her admiration. There are huge level differences between the two in every sense. One day, June goes to a concert given by Aras and they come eye to eye. They fall in love, but a much bigger obstacle awaits them; their families. Fikret, the producer of Aras, and his mother Zeyno, who left him years ago, will oppose this relationship. Similarly, Haziran mother would oppose the relationship. Zeyno will try a new tactic and challenge Fikret by preparing Haziran as a brand new pop singer. At the same time, he will not neglect to use this situation to make amends with his son Aras. Between Haziran and Aras, competition starts and they are expected to become enemies. But the duo will succumb to their love and struggle despite the people around them. Although it may seem impossible for everyone to be together, they will not give up.
Dolunay – 2017
Ferit Aslan (Can Yaman) is a successful businessman who also seeks the perfect order in his business at home. Every day at his house he works A Cook who will make his meal before he arrives. But because of Ferit's rigor and perfectionism, none of them can work for long.
Nazli (Ozge Gurel), a graduate student in the Department of gastronomy, is urgently looking for a job to pull out the house where he lives with his friend and brother, but he cannot hold on to the jobs he finds because of his demeanor. The path of these two opposite people intersects in Ferit's kitchen.
Muhtesem Ikili – 2018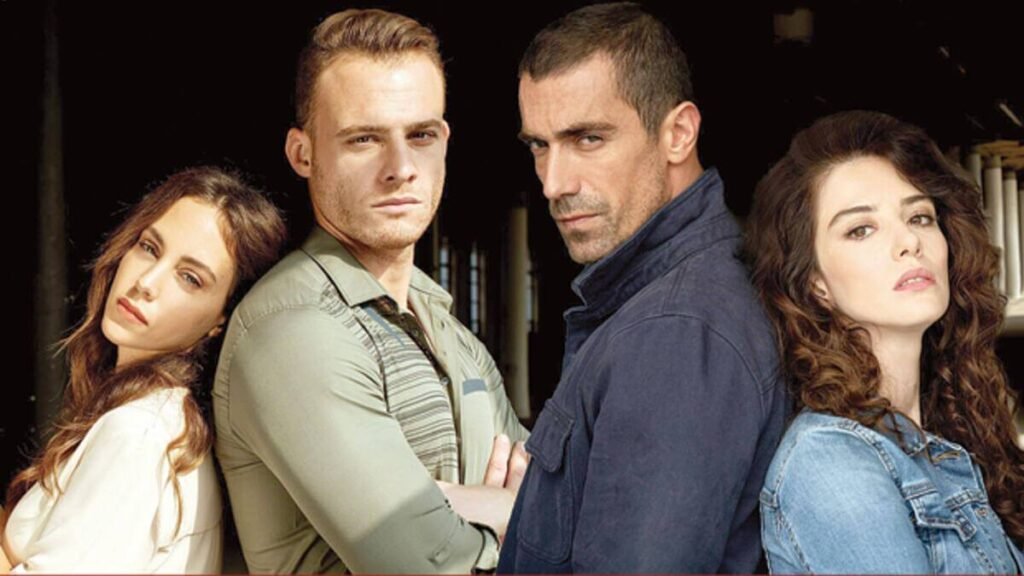 Mert Barca (Ibrahim Celikkol) and Mustafa Kerim Can (Kerem Bursin), who are addressed by the last name of everyone, one of whom is the most ambitious Commissioner of the organized branch in Anatolia and the other on the European side, are forced to come together for a drug operation in the MKC with the name known in the organization. Operation Barca's courage, MKC's intelligence, and success result in these two men, who have been trying to stay away from each other for years, acquiring a common enemy. The two policemen are forced to put aside their problems with each other and fight together against their common enemy. Their enemies are very strong, their struggle is difficult, but they will be more difficult to tolerate each other.
Medcezir – 2014
Yaman, who lives in Tozludere, in one of the suburbs of Istanbul, gets into big trouble because of his brother. Yaman, who until that day is trying to become a successful student to change his fate, meets crime that night, unwittingly. And Yaman's clean record is tarnished.
As soon as Yaman loses all hope, Av. Selim Serez meets. Selim sees that behind the mud smeared on Yaman is a promising young man. The more he struggles to stay out of trouble, the more he likens the sinking Yaman to his own youth, and he does not allow this boy's story to end behind bars.
Yaman does not take Selim, a rich lawyer, seriously at first (thinking that it cannot be true), but when he returns home, he realizes that after the events, he can no longer continue his life where he left off. The voices rising from the poor house once again reach Selim. This time, Yaman does not turn down Selim's offer and steps into a completely different world through the door opened by this man who entered his life because of a bad event.
Although Yaman knows that there is no place for miracles in real life, he understands that he has no choice but to walk through that door. A more difficult life awaits Yaman, with his past on his back, among people he never knew, than in Tozludere.
Muhtesem Yuzyil – 2014
The series is based mainly on the life of Sultan Suleyman The Magnificent and his married wife Hurrem Sultan, the struggle for the throne and the palace life of Hurrem Sultan for his sons.
Bay Yanlis – 2020
In the series, Ozgur (Can Yaman) is a restaurant-bar owner who lives a rich but shabby life and does not believe in love. Ezgi (Ozge Gurel), on the other hand, is now tired of wrong relationships and is determined to have a proper relationship and get married. Seeing that Ezgi is not successful in relationship issues, Ozgur starts mentoring him about relationships and giving him tactics to get the man Ezgi likes.
Kiraz Mevsimi – 2014
She is studying at the Department of history, textile and fashion design. She's smart and beautiful. Her biggest dream is to become a successful fashion designer. She makes a lot of effort to deliver his drawings to the famous fashion designer Önem Dincer, whom she took as an example in this regard. The story finally manages to attract his attention, and at this time he meets the love of his life, Ayaz Dinçer. Ayaz is the partner of Mete, with whom story falls in love platonically, and also the son of his idol, Önem Dincer.
The story will also taste true love with Ayaz for the first time as she steps up the ladder of success step by step in the fashion world she has dreamed of since childhood.