As in the past years, adaptation series are on the rise in the Turkish television world today. Turkish remakes of many TV series made in South Korea, India and USA attract great attention.
So which Turkish series are remakes? We researched the series that everyone is curious about and prepared a list for you. Here is the 20 Turkish remakes that are actually worth watching.
20. Kiraz Mevsimi
Oyku, who has been in love with her best friend Burcu's brother Mete since her childhood, wants to be a successful fashion designer one day in the future. He falls in love with Mete, his friend Seyma, who is hidden from everyone, and buries his feelings in his heart. As a result of funny coincidences, she meets Mete's partner Ayaz.
Kiraz Mevsimi is an adaptation of South Korea's most famous youth drama series A Gentleman's Dignity.
19. Cilek Kokusu
Asli and Burak, who have completely opposite characters and lives, meet in a surprising way. While they think that they will never see each other again, Asli, Burak and Volkan fall into a game that they cannot know the end of in Bodrum. The chain of coincidences will not leave them in Bodrum.
Cilek Kokusu series was adapted from South Korea's famous drama Boys Over Flowers.
18. Kucuk Tatlı Yalancilar
Asli, Selin, Acelya, Hande and Ebru are close friends who get along very well. Five friends who meet to spend a night of disaster create an unforgettable fun. But there is another event that marks the night and they will never forget. At the end of the night, Acelya mysteriously disappears.
The four friends, who are shocked by Acelya's disappearance, do not come together for a long time. A year passes, and all four of the girls begin to receive mysterious messages. These messages about matters that only Acelya will know bring the four friends back together. Girls wondering about the source of the messages begin to drift into a mystery they don't know about.
Kucuk Tatlı Yalancilar is a remake of the American TV series Pretty Little Liars.
17. Kiralik Ask
Defne works as garson in a cafe. Omer's mother, Neriman, wants her to fall in love with her by making a deal with the laurel in exchange for money. While Yasemin plans to steal Omer's heart, everything changes with the participation of the laurel in this game.
Kiralik Ask series is a one-to-one remake. Based on the South Korean drama Can Love Become Money.
16. İntikam
The story of an intrigue that emerges when a young woman who has sworn to avenge her family returns to where she lived when she was a little girl and introduces herself as a completely different person and infiltrates the lives of those she will take revenge on.
Intikam was based on the series Revenge.
15. Kavak Yelleri
Deniz trying to break away from her happy and safe family and find her own way and grow… Idealist, strong, sensitive to reading despite financial difficulties, trying to appear harsh on life Asli… Efe trying to hide his pain with his relaxed and humorous attitude. And the weed, the rebellious Mine.
We will all be familiar with the close friendship, first love, family problems they have experienced at school, and the family problems these four young people are trying to overcome.
Kavak Yelleri is a remake of the American TV series Dawson's Creek.
14. Doktorlar
It is Turkey's most famous and best hospitals in the story of a group of young surgeon began training. However, as we get to know our heroes and witness their colorful and extraordinary lives, we realize that nothing is as it seems. All the colors of life will be included in this series. Every patient who comes to the hospital, rescued or lost from the hands of the doctors will show us a truth.
Doktorlar is a remake of the American TV series Grey's Anatomy.
13. Kucuk Sirlar
Kucuk Sirlar tells the daring and striking story of the extraordinary, glamorous and glamorous lives of Istanbul's wealthy families and their children as never before.
Kucuk Sirlar series is a one-to-one remake. Based on the American drama Gossip Girl.
12. Umutsuz Ev Kadinlari
Umutsuz Ev Kadinlari, the indigenous adaptation of Desperate Housewives, which stars five women, is a drama that represents another side of femininity with the five female characters in the leading roles.
11. Alev Alev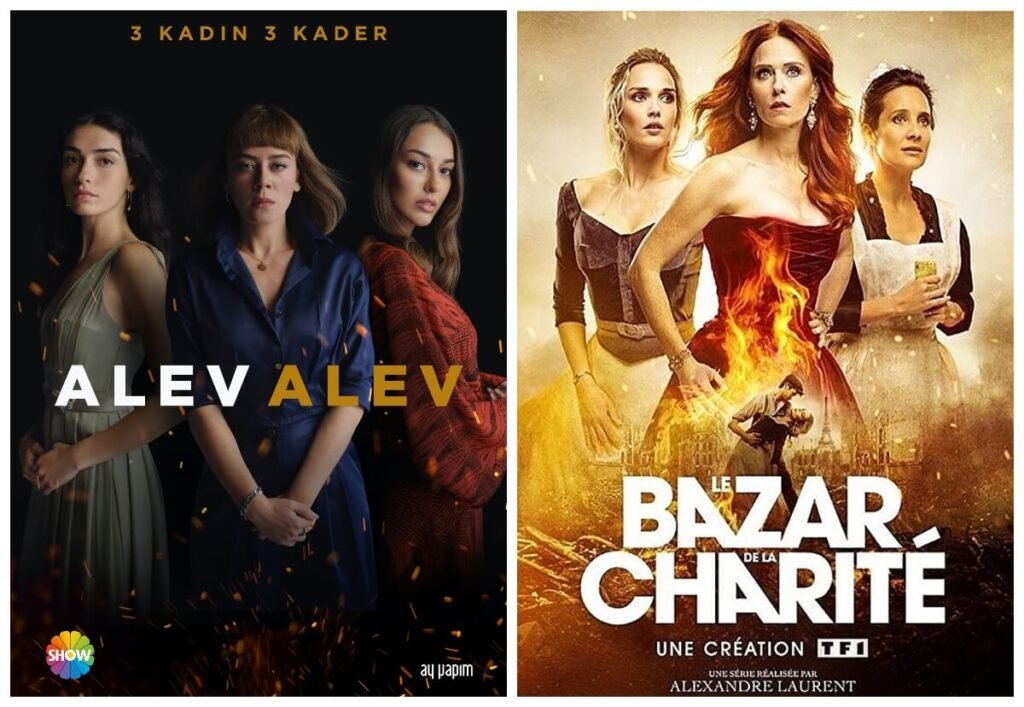 The series Alev Alev depicts the changing lives of three women, who are very different from each other, after a fire. Alev Alev is a remake of the French TV series Le Bazar de la Charité.
10. Sadakatsiz
Doctor Asya lives a peaceful and happy life with her husband Volkan and their son Ali. This situation changes when she finds out that her husband has been having an affair with a young woman for several months. Asia must choose between saving her marriage or taking revenge on her unfaithful husband.
Sadakatsiz was based on the series Doctor Foster.
9. Medcezir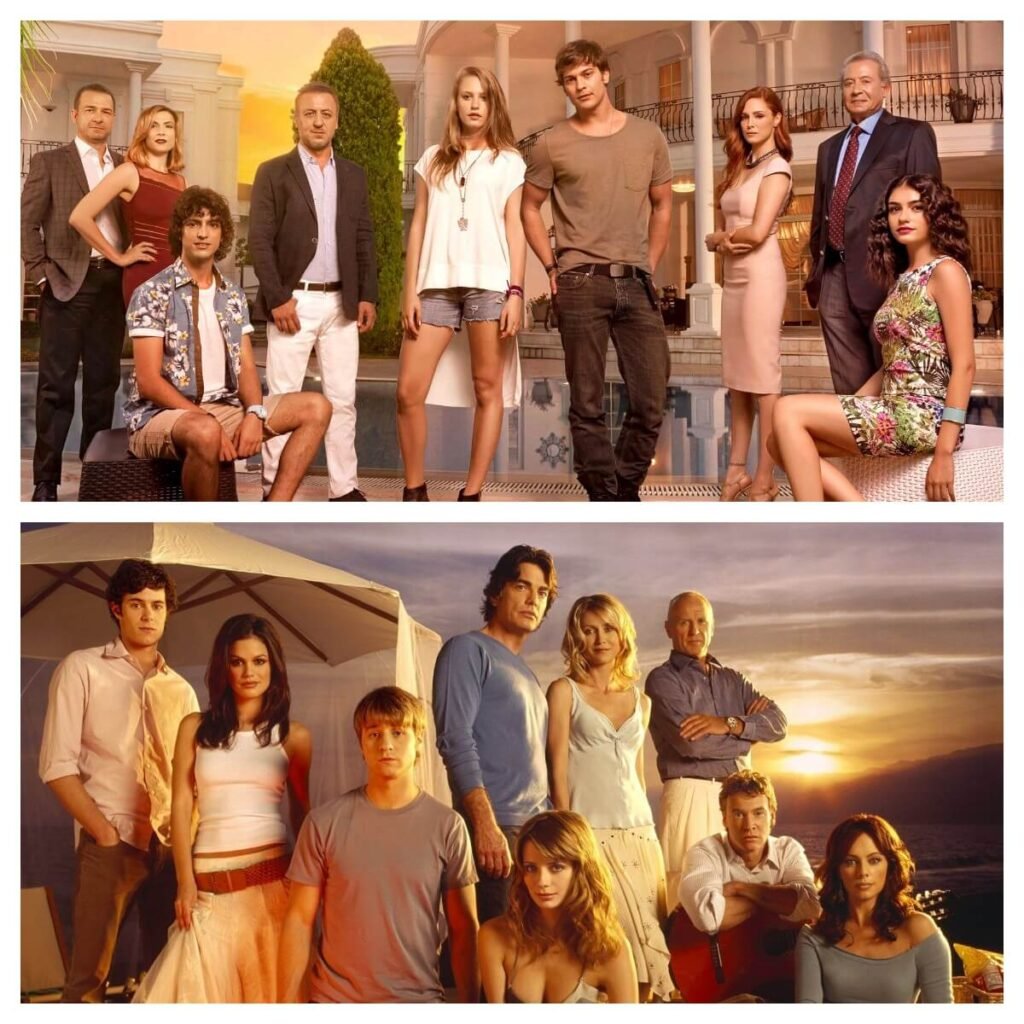 Yaman Koper, who lives in the suburbs, confronts lawyer Selim Serez after the theft with his brother Kenan, which will be the turning point in Yaman's life.
Medcezir series is a one-to-one remake. Based on the American series The O.C.
8. Bizim Hikaye
After her mother leaves, Filiz takes care of her family and takes care of her 5 younger siblings, despite her alcoholic father Fikri. Filiz, who devoted her whole life to her brothers, spends her days earning money from day-to-day jobs and having trouble with her best friend and neighbor Tulay. While dealing with problems bigger than himself, suddenly Baris enters his life. This mysterious young man, who comes out of nowhere, will do his best to win Filiz's heart and become a part of the family.
The intersecting paths of 6 brothers who are trying to hold on to each other and be happy despite their father Fikri, who devoted their lives only to drinking and earning money easily, and Baris, in love with Filiz, will lead everyone to new stories.
Bizim Hikaye is an adaptation of the TV series Shameless.
7. Hekimoglu
Ates Hekimoglu is a successful doctor in his 40s… The most known feature of Ates Hekimoglu, who is far from the definition of a doctor known for both his lifestyle and his way of handling diseases, is that he does research by focusing on diseases without establishing direct contact with patients.
Hekimoglu series is a one-to-one remake. Based on the American series House M.D.
6. Menajerimi Ara
In the series, the world of famous actors and their managers is on the table. In Menajerimi Ara, we follow the story of existence in the world of actors and managers, where ego wars, ambitions, fame, money, hopes, big disappointments take place together under the spotlights of Dicle, who came to Istanbul to work in the cinema sector.
Menajerimi Ara is an adaptation of the French TV series Dix Pour Cent.
5. 1 Kadın 1 Erkek
Zeynep and Ozan have been living together for 9 years. Zeynep is a romance loving woman that always dream about marriage. Ozan, on the other hand, is a man who constantly dreams of sexuality and hates romance, and therefore thinks about continuing to live together. The events and adventures of these two people are conveyed as sketches in which the integrity of the subject is ensured.
1 Kadın 1 Erkek series is a one-to-one remake. Based on the French sit-com Un gars, une fille.
4. Kuzey Guney
The story of two brothers, whose paths are different, their goals are different, the methods they follow to achieve their goals are different, they have opposite characters, their only common point is Cemre, their love, they struggle to survive.
3. Tatli Hayat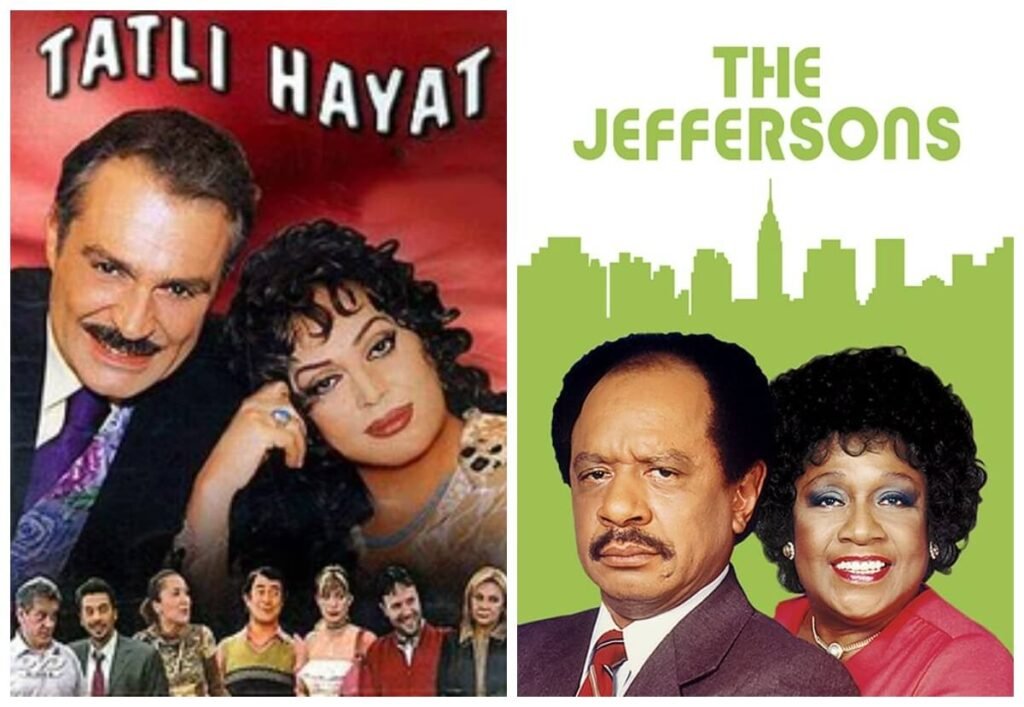 When Ihsan and his wife Sevinc Yildirim earn good money from Ihsan's dry cleaning business, they decide to step into a different life. In line with Ihsan's efforts to move up, they move from a shanty in Gultepe to their new luxury home in Etiler.
Ihsan and Sevinç's upstairs neighbors are Feraye and Yorgo, a Turkish-Greek couple, their daughters Pelin, and their next-door neighbor Irfan, who is famous for knocking on the door at times, are very colorful personalities.
Tatli Hayat is an adaptation of the American cult series The Jeffersons.
2. Avlu
Deniz is arrested for shooting his wife Hakan while fighting. After Deniz comes to prison, all he wants is to call her daughter and find out how… While Deniz's only wish is to get out of prison and reunite with her daughter, she finds herself between Azra and Kudret.
Avlu is an adaptation of Wentworth, an Australian television series.
1. Galip Dervis
It is a comedy-based detective series in which detective Galip Dervis, whose wife died 5 years ago and who has an obsessive-compulsive personality, solves different events with incredible attention and intelligence in each episode.
Galip Dervis is an adaptation of the Monk series.