Demet Ozdemir is one of the beautiful players whose star has been shining in recent years. Demet Ozdemir has been one of the players who has attracted a lot of attention with his acting, beloved sequences, beauty, dances.
What are the best Demet Ozdemir sequences? What are the new and old most watched Demet Ozdemir TV series? Here's a list of the all Demet Ozdemir TV series ranked from worst to best.
Cilek Kokusu (Smell of Strawberry) – (2015)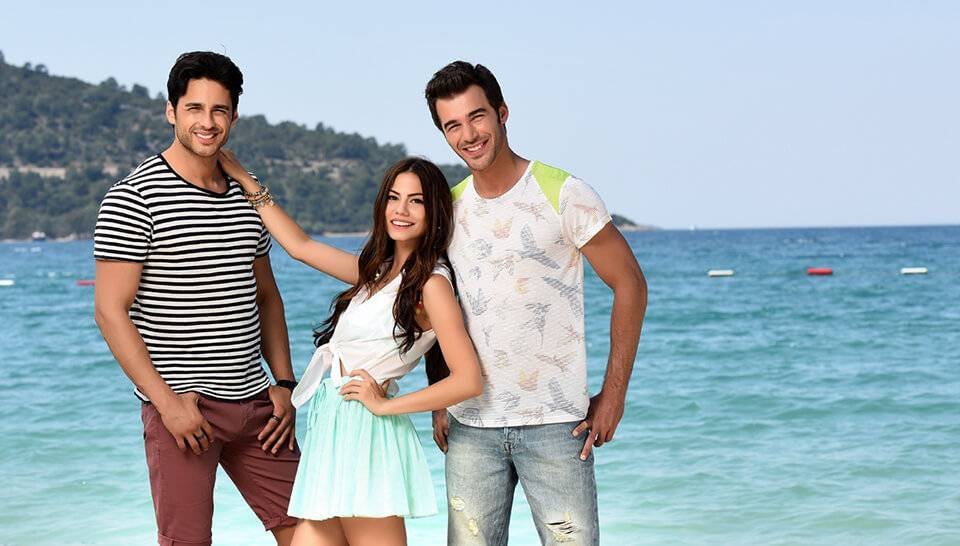 Cilek Kokusu (Smell of Strawberry) tells the story of Asli and Burak, full of surprises, with completely opposite characters and lives from each other. Asli, Burak and Volkan will fall into a game in Bodrum, where they never know the end. And the chain of coincidences will not leave them in Bodrum.
Cilek Kokusu (Smell of Strawberry) was shot in different districts of Istanbul, as well as in the Bodrum district of Mugla. The vast majority of the series, including episodes of filming in Bodrum Yalikavak, was completed in Istanbul.
Demet Ozdemir TV Series Cilek Kokusu (Smell of Strawberry) first hit screens in 2015. The series lasted one season, and the final episode said goodbye to the audience.
Starring Demet Ozdemir and Yusuf Cim, the cast of the series includes the following names: Mert Ekin Daymaz, Mahir Gunsiray, Mine Tugay and Murat Basoglu.
Sana Bir Sir Verecegim (I'll tell you a Secret) – (2013-2014)
No secret can be kept forever!
A mother whose daughter was kidnapped by mysterious men… A father who lost his wife and made it his mission to protect his son from evil… And five children with different extraordinary powers. They came from different lives, but they have to be a family to protect themselves.
Sana Bir Sir Verecegim (I'll tell you a Secret) is a 2013 fantasy, drama, family-themed television series. It was adapted from the Spanish-language series "Los Protegidos". 29 on February 2, 2014 due to low ratings.
Kurt Seyit ve Sura (Kurt Seyt & Shura) – (2014)
Kurt Seyit ve Sura (Kurt Seyt & Shura) is a Turkish drama television series based on the novel of the same name by Nermin Bezmen. The series was about the love of Kurt Seyit Eminof, a Turkish soldier from Crimea, and Shura and Alexandra Julianovna Verjenskaya, the daughter of a noble Russian family.
Ece Yorenc wrote the script for the series and Hilal Saral directed the series. He did the generic music and all the other music of the series. At the first stage, the series, which is planned to last at least 26 episodes and whose foreign sales are also made accordingly, did not receive ratings on the grounds that 21. the episode ended.
Kurt Seyit is the eldest son of a Crimean Turkish family. Kurt Seyit, who has admired his father since he was little, has become one of the Tsar's best officers, just like him, and when the time comes, he will marry a Turkish girl. Shura, the youngest daughter of a noble Russian family, is unhappy that her father has a terminal illness. He and his older sister, Valentina, traveled to Petrograd to treat their father (St. They take him to Petersburg.
When they arrive, they become guests of Kurt Seyit's former comrade-in-arms Petro and his family. Petro, who quit the profession due to a mistake in the war, becomes an intermediary for Shura to meet Kurt Seyit. But Petro secretly harbors hostility towards Kurt Seyit. Kurt Seyit and Shura, who attend an invitation, see each other for the first time. Fall in love at first sight for each other. After this event, a great adventure awaits them.
No: 309 – (2016-2017)
As of No:309, rich girl is not a classic conception of poor boy, rich boy is a romantic and comedic television series with a theme of poor girl. This is a theme we are all familiar with. Fox TV's beloved series managed to lock millions at the beginning of screens with the issue of No:309, when a new episode of every week comes to the screens on Wednesday nights. So much so that even repeats of the series, on weekdays or weekends, manage to make him watch with love.
Produced by Faruk Turgut with Gold Production, the director of the series is Hasan Tolga Pulat, and the screenwriter is Asli Zengin and Banu Zengin. Demet Ozdemir and Furkan Palali share the lead roles. Sevinc Erbulak, Terru Cubucuk, Nursim Demir, Suat Sungur, Ozlem Tokaslan, Gokce Ozyol, Fatma Toptas, Ceren Tascı and Irem Helvacioglu are the actors who have taken on other roles in the series.
As a summer series, the first episode aired on 01.06.2016. It is one of our adaptation series in terms of the topic No:309, which colors our evenings from summer. It is adapted for Turkish television by the Korean-produced series Fated to Love You.
Onur, who must marry and have children in order to get the inheritance left from his grandfather and take over the company, goes on a date at the urging of his mother. Tulip is at the same place for a date her mother arranged. Tulips and Onur, who do not know each other, sit at the same table as a result of misunderstandings. This mistake has prepared them for a big surprise.
Dogdugun Ev Kaderindir (Fateful House) – (2019-present)
Dogdugun Ev Kaderindir (Fateful House), it is based on a true story in Gulseren Budayicioglu's novel The Girl In The Glass, and it appears to the audience as a screen-adapted version of this novel. Gulseren Budayicioglu is a valuable psychiatrist and also a successful writer who writes traumatic stories with all their reality. The home in which you were born is fate, a series that deeply shakes and thinks with its true story and traumatic experiences.
This series, which shows previously unopened rooms of love, life and family life, makes us all question life. TV8 is at the top of the ratings with the series Dogdugun Ev Kaderindir (Fateful House). The series is produced by OG Media owner Onur Guvenatam and directed by Cagri Bayrak. Gulseren Budayicioglu is a script consultant.
Dogdugun Ev Kaderindir (Fateful House) tells the love story of Mehdi and Zeynep, who faced many difficulties as children and fought great life struggles. If you say "Dogdugun Ev Kaderindir (Fateful House), whose story?" we can call it the story of Zeynep, referring to her novel. Mehdi and Zeynep have had a very difficult time in their lives, both because of their families and the conditions they are in.
The duo, whose soul is filled with the wounds they received in their childhood, seek out their feelings of love and belonging in each other. Together they try to heal their wounds and be each other's medicine. The duo's journey tells a lot about love. Although the house you were born in is a series adapted from the book, the series progresses differently from the book at some points.
Starring Demet Ozdemir and Ibrahim Celikkol, Dogdugun Ev Kaderindir (Fateful House) adorns the screens with its ratings success.
Erkenci Kus (Early Bird) – (2018-2019)
A story of fairy-tale love that begins with a surprise kiss. The sometimes funny, sometimes boisterous States of grocer Sanem and Albatross have been so good to anyone who still believes in love in front of the screen. "The passionate love of Sanem and Can will be talked about a lot this summer!" the series, which started on Star TV with the slogan, marked the summer of 2018 with its success.
Erkenci Kus (Early Bird), which influenced the audience with its exciting and exciting story, comes out of the pen of famous screenwriters Asli Zengin and Banu Zengin. Erkenci Kus (Early Bird) is quite young and colorful in terms of cast. The series brings together famous names such as Demet Ozdemir, Can Yaman, Ozlem Tokaslan, Berat Yenilmez, Cihan Ercan, Oznur Serceler, Birand Tunca, Ali Yagci and Sevcan Yasar. The series has a serious following on social media as well as on screen.
Erkenci Kus (Early Bird) received the award for Best Romantic Comedy Series at the 45th Golden Butterfly Awards. The series has been broadcast in many countries such as Spain, Croatia, Albania, Israel, Lithuania, Iraq, Ukraine and Kosovo.