We have prepared a guide for Turkish TV series viewers from US, UK and Ireland, Germany, Austria, and Switzerland and Italy. We have listed the 5 Best Turkish TV Series on Peacock.
Turkish Series on Peacock
Brave and Beautiful (Cesur ve Guzel)
Brave and Beautiful (Cesur ve Guzel) is a drama and romantic TV series directed by Ali Bilgin and written by Ece Yorenc, which aired in Turkey between 2016 and 2017.
The series stars Kivanc Tatlitug and Tuba Buyukustun. Tamer Levent and Yigit Ozsener are also in the cast.
The plot of the series is as follows: One day, a handsome and charming man named Cesur moves from the big city to a rural town. This mysterious handsome man, who fascinates everyone, meets Suphan, a local landowner who looks after the affairs of the family business. A passionate love begins between the two young people.
However, there is much that both young people do not know. In fact, their families have been enemies since the past, and they are both unaware of their fathers' dark faces and unresolved accounts. This is why the great love is overshadowed by the family, and the dream of happiness of the two lovers turns into an impossible love with the opposition of their families. Family elders intervene. Meanwhile, the mystery of why Cesur has come to the countryside and his mysterious story is revealed over time.
The series, the first episode of which was broadcast on November 10, 2016, ended with the 32nd episode broadcast on June 22, 2017.
The series ended in Turkey but is still airing on some streams. For this reason, it is included in the best turkish series on Peacock list.
Cennet'in Gozyaslari
Cennet'in Gozyaslari (Tears of Cennet) is a Turkish drama television series produced by Surec Film and directed by Sadullah Celen and Aysun Akyuz Mehdiabbas based on the Korean production Tears of Heaven, which aired on ATV in 2017-2018.
The series starring Berk Atan, Almila Ada, Esra Ronabar had a remarkable storyline. Being a drama project and successful acting performances were enough to keep the series on the screen for a long time. Cennet'in Gozyaslari managed to become one of the Turkish series that attracted attention abroad.
The plot of the series is as follows: Abandoned by her mother as a baby, Cennet lives in a poor neighborhood with her grandmother Mukaddes. On the day she is about to graduate from the architecture faculty with top honors, she crosses paths with her handsome and successful boss Selim.
Melisa, the only daughter of the Soyer family, partners of SR Architecture, is Cennet's friend from the faculty. And she has been friends with Selim since childhood. But for Melisa, Selim is more than a friend. Cennet is shocked when she sees Selim next to Melisa at the graduation ceremony. Melisa's mother Arzu, a successful businesswoman, offers Cennet a job in their company. Selim is extremely pleased that Cennet, whom he was attracted to at first sight, will start working in their company. However, Arzu is unaware that with Cennet, whom she brought into her life with her own hands, comes her past full of secrets.
Strawberry Smell (Cilek Kokusu)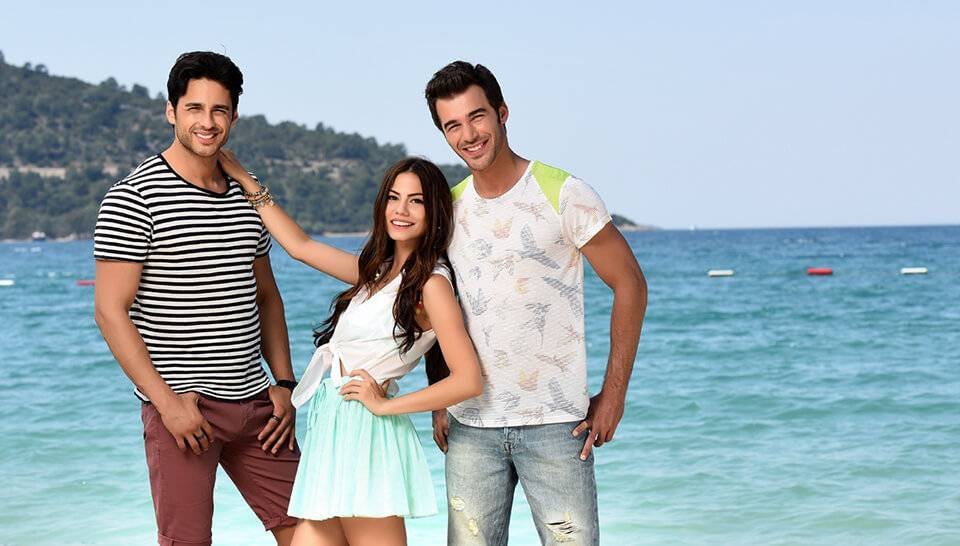 Strawberry Smell is a Turkish television series starring Demet Ozdemir, Yusuf Cim, Ekin Mert Daymaz, Mahir Gunsiray, Mine Tugay, Murat Basoğlu and Lacin Ceylan in the genres of love, drama, youth and romantic comedy.
Aired in 2015 on Star TV, the series was adapted from the South Korean series The Heirs and ended with the 23rd episode on November 27, 2015.
The plot of the series is as follows: Asli and Burak, who have completely opposite characters and lives, meet each other by surprise. While thinking that they will never see each other again, Asli, Burak and Volkan fall into a game in Bodrum. The chain of coincidences will not leave them alone in Bodrum.
Strawberry Smell (Cilek Kokusu) is on the list of best turkish series on Peacock.
Iffet
Iffet is a Turkish television drama series starring Deniz Cakir, Ibrahim Celikkol and Mahir Gunsiray, based on the 1982 motion picture of the same name.
The series aired on Star TV and lasted 2 seasons in total. It ended on September 24, 2012 with its 40th episode. Iffet, which brings the most passionate form of love and revenge to the screen, is directed by Faruk Teber.
The plot of the series is as follows: Iffet, who lives with her father and sister in one of the old neighborhoods of Istanbul, is passionately in love with Cemil, a taxi driver, despite all the pressures of her father. However, this love will cost her dearly.