The cast of Masumiyet series and its subject matter are among the topics being investigated. In the Innocence series, which screens on Wednesday nights, Harun character Mehmet Aslantug, Bahar character Deniz Cakir, Hale character Hulya Avsar, Ela character Ilayda Alisan gives life.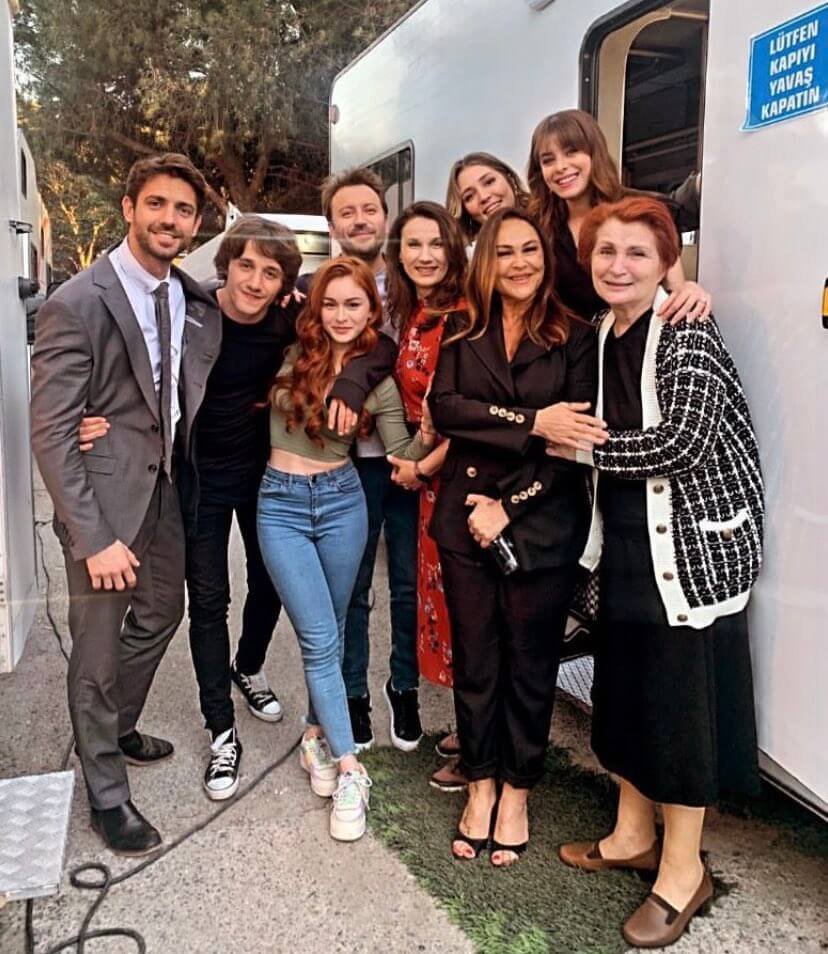 The cast of series Masumiyet and its subject matter are intrigued by the viewers of the series. Omur Atay sits in the director's chair of the series, Which screens every week on Wednesday evenings. Among the actors of the series of Masumiyet are Serkay Tutuncu, Ilayda Alisan, Deniz Isin. Here is the subject of the series and its characters…
The Subject of Masumiyet Series
The ordinary life of an ordinary mother changes overnight when her daughter becomes a victim of violence, and a continuous hunt begins in which right is mixed with wrong and truth is mixed with lie.
On the night of February 24, a young girl was found dumped on the side of the road in Istanbul, thought to have died. The young girl who was beaten to death was 19-year-old Ela Yukar, who had her birthday that day. Ela's mother Bahar, whose daughter's birthday has turned into the most painful day of her life, marks the well-known businessman Ilker Ilgaz. Ilker, who is the target of a painful mother, is about to sit at the wedding table with Irem, the daughter of Harun Orhun, a family friend. As the difficult journey of a mother who wants justice for her daughter begins, another mother confronts Bahar; Ilker's mother, Hale Ilgaz. And Aaron, the father of Irem, must choose his side while staying between the two fires. Along with Bahar's accusations, Ela and Ilker's forbidden love, which they live in the shadow of lies and Irem, is put under the lens. The bloody love triangle that emerges from the bottom of the horrific violence will fundamentally change the lives of all three families.
Cast of Masumiyet Series
Hulya Avsar, Mehmet Aslantug, Deniz Cakır share the lead roles of the series with other popular players such as Serkay Tutuncu, Ilayda Alisan, Deniz Isın, Selen Ucer, Tolga Gulec, Neslihan Arslan, Asena Tugal, Ertugrul Postoglu, Alayca Ozturk Gidisli, Kimya Gokce Aytac, Gizem Ergun, Asena Keskinci, Ozan Kaya Oktu and Ruchan Caliskur.
Who is Hale Ilgaz (Hülya Avsar) in Masumiyet series?
Ilker's mother is the human version of those predatory mother Tigers we saw on documentary channels. His claws are ready at any moment to protect his son. If the father of your child belongs to Ismail Ilgaz, otherwise you will not survive! Beneath the image of an arrogant, snobby and unattainable perfect society woman is a wife and a tired mother who are victims of systematic psychological violence.
Who is Harun Orhun (Mehmet Aslantug) in Masumiyet series?
Aaron, whose sterile, white world will be tainted by horrific accusations against his future son-in-law, is a true 'super dad'whose world revolves around his daughter Irem. Although he believes that he has given his greatest test of fatherhood with the untimely loss of his wife, Aaron's paternity test is just beginning with the brutality that will be experienced.
Who is Bahar Yüksel (Deniz Cakir) in series ?
An ordinary woman who has already forgotten her dreams and ideals of Spring, who chose to become a mother at a young age and returned from the University door, unaware of her power. His power, hidden beneath his domestic image, will be revealed by his 19-year-old daughter falling in love with the wrong man.
Who is Ela Yüksel (Ilayda Alisan) in Masumiyet series?
Bahar's 19-year-old daughter. High school is over, the excitement of college has begun. At the age when he believed he could do anything, he wanted to deviate in all directions. At the beginning of the road… a typical Generation Z member. When I say I'll change the world with a click, I'll run with a love that won't happen and his world will change.
Who is Ilger Ilgaz (Serkay Tutuncu) in series?
A narcissist who has not found his own identity between his domineering and perfectionist father and his mother, who has covered up all his mistakes, big and small, since childhood. His 35-year life, which passed in presence, power and panache, crowned by personal achievements, turned upside down overnight, while his name, which adorned the pages of society and economics until that day, was 3. It will move to the page.
Who is Irem Orhun (Deniz Isin) in series?
The standard socialite is a popular influencer who got rid of her beautiful label with the right to 'content.' Daddy's little princess. For him, marrying Ilker, with whom he has been flirting peacefully with a resentment for a long time, is a social challenge that he must fulfill.
Who is Yelda Demirci (Selin Uçer) in Masumiyet series?
Bahar's best friend, his only confidant in life. His brother, Umut, a relic of his parents, whom he lost in succession, is the most important person in Yelda's life.
Who is Timur Yüksel (Tolga Güleç) in series?
Timur, an ambitious white-collar man, is his mother's 40-year-old little prince with two children but not growing up. For Timur, who cannot make the attack he wants in his career, there is only one responsible for everything that does not go well in his life; Bahar, the mother of his children.
Who is Banu Kaya (Asena Tugal) in Masumiyet series?
Ilker Ilgaz's personal assistant. An ambitious, predatory plaza woman. The black box of the Ilgaz family, which came to its place with its intelligence, diligence and reliability. Apart from his career and the standard of living he has to maintain, the only thing he cares about is his feelings for Timur, with whom he has had a forbidden relationship for two years.
Who is Ismail Ilgaz (Ertuğrul Postoğlu) in Masumiyet series?
An old-school Wolf businessman whose job precedes his family. For Ismail, who created himself from scratch and skipped class in difficult ways, the community he belongs to is more important than anything else. Even his family.
Who is Neval Hanci (Alayça Gidoglu) in Masumiyet series ?
Neval, who is thrown between her beloved husband and her despotic mother, is competitive and jealous of her temperament. Although at first glance he seems like his mother's Hiku, he is not happy to be crushed under the shadow of Gulizar along with his core family.
Who is Asu Ilgaz (Kimya Gökce Aytac) in Masumiyet series?
ASU, the voice of common sense, throws aside his own problems and rolls up his sleeves to support his family.
Who is Emel Yuksel (Gizem Ergun) in Masumiyet series?
Emel, who suffered from her mother's disapproval of her boyfriend when she was in her 30s, is not the victim of domestic psychological violence inflicted on her sister-in-law. Although she still lives with her mother, she is freer than her sister and more rebellious than her mother.
Who is Hande Hanci (Asena Keskinci) in series?
Ela's cousin. The two girls grew up in the same apartment as brothers, but like hostile brothers. The seeds of hostility were planted in Hande's heart when he was still a child by his grandmother's adoption, and sprouted by his mother's competitive structure.
Who is Umut Demirci (Ozan Kaya Oktu) in series?
Hope, platonically in love with Ela, is always a safe harbor, a loyal and altruistic friend. His conscience is as strong as his feelings.
Who is Burcak (Sevgi Temel) in Masumiyet series?
Born on 10.04.1995, Sevgi is a basic Mardin. Having discovered his interest in acting by taking part in theater plays during primary school periods, he continued his life with the Ankara State Conservatory. After graduation (2018), Sevgi Temel, who played his first professional play in Ankara State theaters, got off to a good start by playing the demon in the terrorist play. After settling in Istanbul, Sevgi Temel, who made his first camera experience in Ankara with the character "Berçin"in "I loved you once", played the main cast in the series Türkan Hanım's Mansion. Love will portray the character "Burçak" in the Basic series of innocence.
Who is Gulizar Yüksel (Ruchan Caliskur) in Masumiyet series?
It's the worst thing that can happen to a bride. After losing her husband at a young age, her fondness for her son Timur became sick. A mother who kills when she loves. He doesn't realize how much damage he has done to his loved ones, even separating sons between his son and daughters.