Elcin Sangu was born on 13 August 1985. All the details you are wondering about Elcin Sangu, who stepped into his acting career with a series called Oyle Bir Gecer Zaman Ki, are in our news. Who is Elcin Sangu? Where he was born, how old he is, height, weight, TV series and movies he played in…
| | |
| --- | --- |
| Date Of Birth: | Aug 13, 1985 |
| Place Of Birth: | Izmir |
| Length | 1.70 m |
| Weight | 60 kg |
| Eye Color | Brown |
| Sign | Leo |
| Marital Status | Single |
| Lover | Yunus Özdiken |
| Education | Mersin University |
| Instagram | @elcinsangu |
Elcin Sangu was born in Izmir on August 13, 1985. He is of Circassian origin. After completing his university education at Mersin University Opera Department, Sangu began to appear as an actor in serials after studying acting at The Stage Theatre.
He first became known in 2011 for his character Jale in the TV series Oyle Bir Gecer Zaman Ki. Between 2012 and 2013, she portrayed Nehir in Ask Kac Beden Giyer. From 2013 to 2014, she starred as Eda in the Bir Ask Hikayesi which is the A Turkish adaptation of South Korean television series I'm Sorry, I Love You.
In 2014, she portrayed Guzide in the historical drama series Kurt Seyit and Sura, which was filmed in Russia, Turkey and Ukraine. Following the ATV series Sevdam Alabora in 2015, she made his big debut in the same year, playing the character of Defne in the series Kiralik Ask, in which he starred together with Baris Arduc.
The series ran for 69 episodes and Sangu's performance was acclaimed. In 2017, it was announced that Sangu was expected to appear in a new series to air on Kanal D. Also in August of the same year, Sangu's Yanimda Kal with Baris Arduc it was announced that they would appear in the motion picture .
June 2015-January 2017 finale of the romantic comedy series Kiralik Ask, which aired on Star TV, is best known for her role as Defne. Due to her performance, she was nominated for more than 20 awards, including three Golden Butterfly Awards. Other projects he has been involved in include Oyle Bir Gecer Zaman Ki, Ask Kac Beden Giyer (2012-2013), Bir Ask Hikayesi (2013-2014), Kurt Seyit and Sura (2014) and Sevdam Alabora (2015).
The natural red-haired actress of Circassian descent has been the face of Elidor hair products as well as the Boyner department store chain. Elcin Sangu was named the second most popular Turkish actress of 2016 based on social media and various other statistics.In September 2016, she became the tenth most followed Turkish celebrity on Instagram.
Sangu, who attracted all the attention with his red hair and pure beauty, continues to be on the agenda again with his new series Iyi Gunde Kotu Gunde.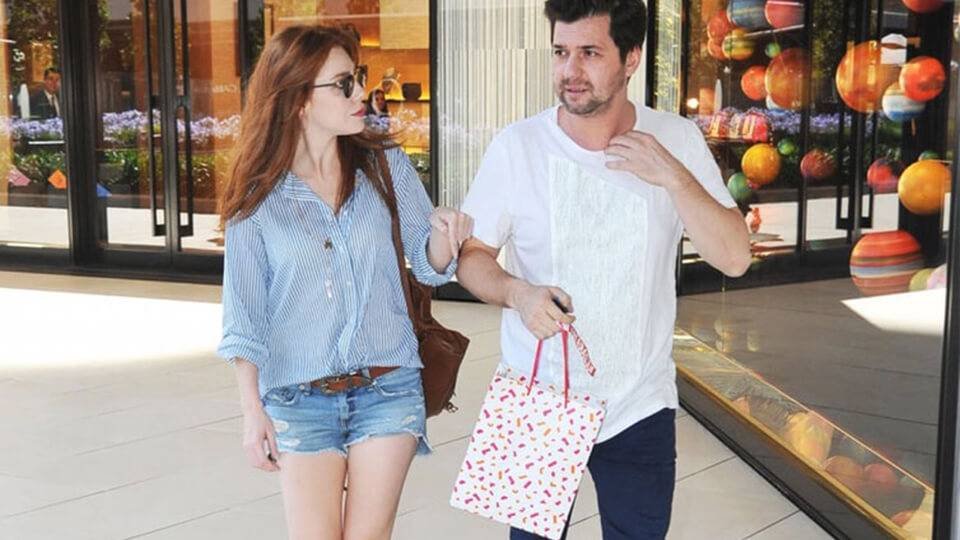 Yunus Ozdiken is the lover of Elcin Sangu. The couple, who were introduced by their close friend Turku Turan and were 8 years old between them, have quite happy days. Yunus Ozdiken works in the retail industry and Elcin Sangu admires his lover's intelligence.
Elcin Sangu TV Series
2010 – Oyle Bir Gecer Zaman Ki
2012 – Ask Kac Beden Giyer
2013 – Bir Ask Hikayesi
2014 – Kurt Seyit ve Sura
2015 – Sevdam Alabora
2015 – Kiralik Ask
2017 – Mutluluk Zamani
2018 – Yasamayanlar
2018 – Carpisma
2020 – Iyi Gunde Kotu Gunde