Cagatay Ulusoy's life, who he was, education and career, such as detailed information was curious and the research was accelerated. So, who is Cagatay Ulusoy who was selected as the first winner of the best Model of Turkey contest held in 2011? Adini Feriha Koydum, Medcezir, Icerde, Anadolu Kartallari and Delibal, such as important series and cinema projects, Cagatay Ulusoy is originally from where and how old is he?
| | |
| --- | --- |
| Date Of Birth: | September 23, 1990 |
| Place Of Birth: | Istanbul |
| Length | 1.90 m |
| Weight | 81 kg |
| Eye Color | Brown |
| Sign | Libra |
| Marital Status | Single |
| Lover | Duygu Sarisin |
| Education | Istanbul University |
| Instagram | @cagatayulusoy |
Cagatay Ulusoy, model, TV series and film actor, opened his eyes to life in Istanbul on September 23, 1990. Cagatay Ulusoy, who completed his university education at the Department of Irrigation Systems of the Faculty of Forestry of Istanbul University, is 1.90 cm tall and 81 kg in weight. Cagatay Ulusoy, Libra, was selected as the first in the Best Model of Turkey contest held in 2011.
Cagatay Ulusoy played the lead role of Sarp in the series Icerde which aired on TV screens on 19 September 2016. Vahide Percin studied acting from the art school owned by Altan Gordum and acting lessons from Ayla Algan. He made his acting debut on Show TV screens in 2011 with the character Emir Sarrafoglu in the series Adini Feriha Koydum. The series ran for 2 seasons.
Cagatay Ulusoy, who has participated in many important series and cinema projects, played the character of Lieutenant Ahmet Onur in 2011, also playing the lead role in the film Anadolu Kartallari. He played the role of Yaman Koper in the series Medcezir which aired on Star TV screens in 2013. He's earned millions of likes. Ulusoy, who took the lead role together with Serenay Sarıkaya in the series Medcezir, has become a name that is loved and appreciated by a very wide segment. He played the character of Baris in the film project Delibal, which entered the white screen in 2015.
Cagatay Ulusoy, who started his career as a model, has become a name that everyone knows and likes in a very short time with his projects on both the screen and the white screen. However, Cagatay Ulusoy also appeared in the commercial film for the first time in a Jean company that continues to sell actively in the Turkish market and has been the face of this brand as of 2016.
Cagatay Ulusoy finally starred in the series The Protector (Hakan Muhafiz), in which he played Hakan, The Last guard of Istanbul, and told about the adventure of Hakan, whose entire world was turned upside down after he learned that he had to protect Istanbul with a secret mission assigned to him in history.
He will last star in the series Yesilcam, which will be broadcast on BluTV. The series is expected to air shortly.
Cagatay Ulusoy TV Series and Movies
1. Adını Feriha Koydum (2011)
In this series, Cagatay Ulusoy shares the lead role with Hazal Kaya. Ulusoy's character here is Emir Sarrafoglu. The subject of the series is as follows: the doorman Zehra has dreams about her daughter. These dreams come true and he wins one of the country's most successful universities on a scholarship. Then he falls into a personality depression. The series addresses this personality crisis. The series began in 2011 and ran for 2 seasons. A total of 67 episodes were filmed. The cast includes such names as Vahide Percin, Metin Celmez, Deniz Ugur, Yusuf Akgun, Ceyda Ates, Baris Kilic.
2. Anadolu Kartallari (2012)
Onur, Ayse, Mustafa, Tunc and Fatih. They are young aviators living with the dream of becoming pilots who dominate the sky. Their dreams are high, but the thousand kinds of difficulties they experience on their way to the goal, their family, their longing for lovers, their friendship, their sacrifices to be in the air, and their competition with each other will also indicate how hard they have set out. Thanks to the experience and support of major Kemal Tanaçan, the International Anatolian Eagle exercise will be a great experience that will completely change their lives for five young people who have undergone training.
3. Emir'in Yolu (2012)
Cagatay Ulusoy also portrays the character of Emir Sarrafoglu here. He shares the lead role with Hazal Kaya again, as in the series Adini Feriha Koydum. This series is a continuation of the series Adini Feriha Koydum. It is mainly about Feriha's personality depression and her father's strict attitude. Feriha will have to make a choice. Either she'll make a fake life and become a princess, or she'll disappear in the struggle for her life. Starting in 2011, the series continued for 3 seasons. The total number of episodes is 80. Adini Feriha Koydum, Sedef Sahin also participated in the series.
4. Medcezir (2013-2014)
Cagatay Ulusoy portrays the character of Yaman Koper here. He shares the lead role with Serenay Sarikaya in the series. Is a 2013 TV series. The American series The O.C. it is a domestic adaptation of. Yaman Koper comes from the suburbs to a very rich neighborhood and starts living here with a rich family. Yaman Koper is young and intelligent, poor but proud. After moving in with the rich family, Yaman Koper falls in love with the most beautiful and richest daughter of the district. Over time, they begin to experience love, everyone's life begins to change. Starting in 2013, the series ran for 2 seasons. Baris Falay and Hazal Erguclu are also in the cast.
5. Delibal (2015)
Baris, who is an architecture student and makes music as a hobby, is Bipolar, but he enjoys enjoying life. As soon as he first saw fusun, he had a feeling that he had never known in his life. Love, which has always been tangent, has captured Baris this time. Who is this girl who makes her taste love? He wants to reach this girl, whose name he doesn't even know, but he is in love with, and he reaches… to find Fusun, to reach him, is all right; he must convince Fusun, who has nothing in his mind but to finish college with a degree and master in America, to love. Handsome, smart and sincere, Baris eventually succeeds. He makes fusun fall in love with him, and they marry. Everything's like a fairy tale. Until one day the story broke…Baris is bipolar. The disease drives him crazy and he eventually commits suicide.
6. Icerde (2016)
In the series, which began in 2016, Cagatay Ulusoy appears as the character of Sarp Yilmaz. The series features names such as Aras Bulut Iynemli, Bensu Soral and Cetin Tekindor. The series proceeds through the stories of the two brothers finding each other. Aired in 2016, the series made its finale at the end of the first season. A total of 39 episodes were filmed.
7. The Protector (2019)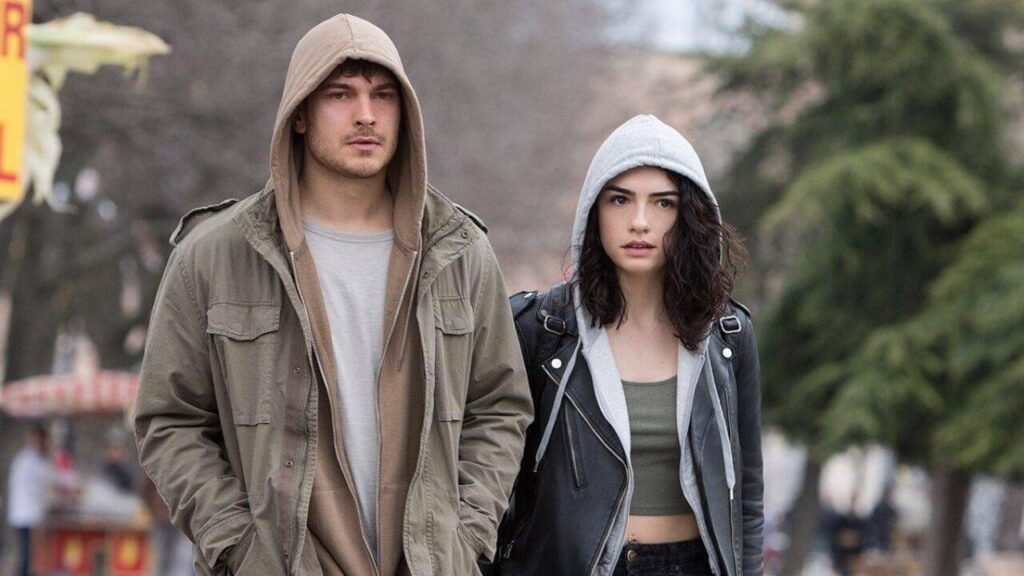 Hakan, a young man, has an ordinary life in Istanbul. But the task assigned to him puts Hakan in a different position than anyone living in a city of 15 million people. The city is threatened by mysterious Immortals from history. Although Hakan is never ready, he must stop the Immortals and save the city. Will Hakan, who takes on the duty of being the last guard of Istanbul, be able to fulfill his duty?
The cast of the series, played by Hakan character Cagatay Ulusoy, also includes Okan Yalabik, Ayca Aysin Turan, Hazar Erguclu and Mehmet Kurtulus.
Cagatay Ulusoy Awards
42nd Golden Butterfly Awards – Best Actor
Aegean University 4th Media Awards – Best Actor
Magazine Journalists Association 21st Golden Lens Awards – Best Actor In A Drama Series
Turkey Youth Awards 2015 – Best Actor
Elle Style Awards 2014 – Most Stylish Male Actress Of The Year
Ayakli Gazete TV Stars Awards 2014 – Best Actor in a Drama Series with Medcezir
Seoul International Drama Awards 2014 – Best Actor Nominee and Silver Award For Best Drama: Medcezir
Quality of Magazine 5th Year Awards 2014 – Best Actor
Best Model Of Turkey 2010 – Turkey Winner